Unlike corporations, groups on the margins of society do not have a large lobby that allows them to invest large amounts of investment and attention to their life-threatening concerns.
Now we use our proven mechanisms and levers of media manipulation to highlight a topic and bring it back to discussion, which is particularly close to our heart:
Homeless people and the rampant housing problem in German cities should be even more in the light of day and so on the front pages.
Video with current newspaper articles and the excerpt from the Deutschlandfunk CULTURE Today of the 07.04.2013

This project has succeeded with a cleverly placed story, which picks up the actual topic in a satirical way.
We announced that we will provide homeless people with a day-long stay. With medical care, fresh fruit and food, the time is spent working on computers to create Facebook and Twitter comments. The statement was crowned with the generation of gold in online games such as World of Warcraft and the care of Shit and Candystorms on the Internet.
We would like to thank all media publishers and online editors that you have given homelessness a short period of coverage.

Howto: Trojan Marketing / Media Manipulation Process
At the 07.11.2012 we put on www.caveman-werbeagentur.de/shitstormagentur the well-known "Shitstormagentur" page into the net. In addition, we reserved the domain www.shitstormagentur.de
We indexed them on Google and a short time later, in the Google Index, we used the term "Shitstorm Agency" on page 1.
In parallel, we also switched to the search term "Shitstorm agency" Google Adwords ads.
So we were perfect in Google search to be discovered by an editor. Now we lay on the wait.
Already in December after we promoted this action on our Facebook fan page, and the Google Adwords ads worked jumped 10-20 people on Twitter and Facebook - and reported on our action.
But the interest was low, no newspaper or online service jumped on the tweets and Facebook reports, ALWAYS on Twitter tweets like "Active image reduction by their own clientele: what say @ bvdw and @wuv on the topic: Shitstorm buy?! http://www.caveman-werbeagentur.de/shitstormagentur ... "herumgeisterten. So W & V already had the 21. December 2012 the opportunity to report. But this storm quickly ebbed away again. Now we had to wait a little longer.
When, on the 31.03.2013, we did not know beforehand, on the first page in the features section, the ZEIT published the report "Take it as a Refreshment" and named our service, our rocket engine took off to the next level.
We did not have to do anything. First Telepolis / Heise contacted us online - here we tried to use the IT security past and newspaper articles about WLAN security to present a believable story. That worked then so far. The editor called us at the 02.04.2013. The article was released on 03.04.2013.
Now things really started. On the 03.04.2013 19 clock, Focus Online copied the message to 19 Watch from Heise. After a phone call with Meedia.de followed an article there. The Swiss-based advertising week took over the report directly from Meedia.de on 03.04.2013. So the silence post went on and on.
On the evening of the 03.04.2013 we changed the profile pictures of Oliver Bienkowski on our agency page, on Twitter, Xing and Facebook against a common satire photo of Martin Sonneborn (Titanic) and Oliver Bienkowski. Martin Sonneborn has nothing to do with the action, it is just a photo that was taken while visiting his show Satire & Riot in Dusseldorf.
Now we switched the next rocket stage. Our statement on the 04.04.2013:
We employ homeless people who farm World of Warcraft Gold all day, click on Facebook profiles and write messages on Twitter. Organize shitstorms and leave clever comments.
On 04.04.2013 Horizont.net fell on the first time a little satire echoes and there is a photo of Martin Sonneborn and Oliver Bienkowski on the homepage.
On this day we also gave the Sueddeutsche Zeitung an interview that appears on the 05.04.2013 on page 1 in the feature section. Good thing, 68.000 Euro Image and brand advertising saved - that's how much a page costs advertising in the Süddeutsche Zeitung.
On the evening of the 04.04.2013 we drove with pastries and a sign saying "580.000 homeless are clearly too much!" To the Dusseldorf station mission. Here we distributed 2012 self-baked cookies in December. We shot the photo in front of the station mission.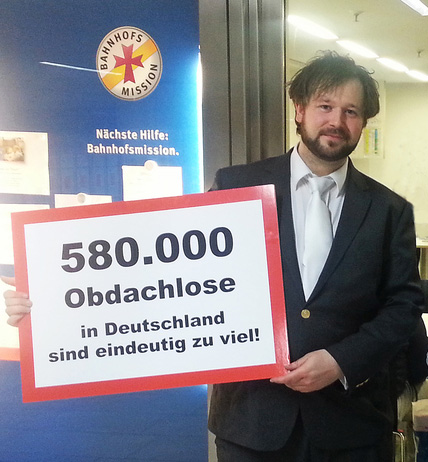 Now, on the night of the 05.04.2013, we publish the resolution on our homepage before the logistical delivery of all newspapers.
All interested readers of the newspaper reports will be presented with the resolution when visiting our websites.
We would like to thank all media publishers and online editors that you have given homelessness a short period of coverage.

Press reports after the dissolution:





Press reports before the dissolution:











Follower growth in parties. Click on the picture to find out more.


Love = the end purpose of world history - the Unum of the universe. Tell a person of your choice that she is SUPER. We will treat your target person as a Nobel Prize winner.
Buy a candystorm.
A candystorm can have a positive impact on daily reporting. We strictly adhere to moral guidelines. In particular, this means we will not give evil people a good image. We guarantee the anonymity of our clients.
Candystorms are defined by a scale. The more loving the easier it will be to bring more people to comment with a few hundred comments. And everything takes its social media way. The temporal proximity to the event also helps to lift the action in the media.
Parallel to the Candystorm it is usually worthwhile to produce a viral video, which usually forces the other side to react.
IMPORTANT:
We only accept orders that comply with our moral guidelines. An incident must never be out of thin air. We understand ourselves as a mouthpiece of injustice. It is not a matter of harming competitors but of raising issues that unfortunately go down with individual people to a different level of communication.
Questions about Candystorm?
Landline: 02131 / 52 456 43
Mobile: 0163 / 71 666 23
Download agency portrait



Click for download

Our Candystorm packages at a glance:
CANDYSTORM S

CANDYSTORM M

CANDYSTORM L

CANDYSTORM XL

For a candystorm we also drive through Europe ...
candystorm agency